Miracle Pants
Why not try these new LipoContour pants?
Last updated: 5 July 2007
We put a pair if slimming underwear to the test to see if they really do help reduce cellulite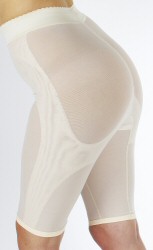 Can specially designed Bridget Jones style pants really help banish cellulite without endless dieting or cosmetic surgery?
LK Today puts LipoContour to the test.
What is LipoContour?
LipoContour is apparently Italy's best kept weight loss secret! It's new to the UK this season.
The concept behind LipoContour?
The brainchild of Professor Marco Gasparotti, one of the world's leading cosmetic surgeons, LipoContour claims to sculpt and redefine the profile of hips, bottom and thighs using a special double-layered fabric that supposedly provides a constant 'micro massage' in problem areas.
This massage helps to break down cellulite and improves the circulation so the fat is whisked away and removed from the body.
Originally designed as support pants for plastic surgery patients, the true benefits of the pants were only realized after Professor Gasparotti's patients had been wearing the pants every day for a month. And thus LipoContour was born!
How does it work?
LipoContour should be worn in direct contact with the skin under your clothes for 12 hours a day for up to 8 weeks, although it is claimed that many people notice a difference after just 4 weeks.
LipoContour's unique, seam-free design claims that it is comfortable and discreet to wear.
How much does it cost?
We asked one of our viewers to try out them out…
Gina is 45 year old married mother of two.
She is a garden designer who suffers from cellulite. She has tried everything under the sun to try to eradicate the dimples, including, electrolysis, wraps, exercising and shower scrubs.
She says that she has had cellulite since she was 16 years old and is very conscious of it. She is only 9.2 stone and is not overweight. Her job as a gardener is very physical and she does an all day work-out.
Dress size: 12
Shoes: 5
Bust 36B
Gina started testing out the pants on 12th June here's how she got on…
Week one:
Gina's first impression was that they were very weird to wear.
As they have to be worn in the day, she's not sure how's she's going to get on wearing them in the heat, especially as she's outside all the time gardening.
When Gina first wore them they were a bit uncomfortable and the waist-band dug into her.
But after a few days they became more comfortable.
On hot days she notices them more.
Week two:
Gina is getting on very well with the pants and hardly notices she has them on.
She wears them every day.
Week Four :
Gina has started to see an improvement
Lipocontour do though recommend wearing the pants for 8-12 weeks during the day for long lasting results – but that visible results can be seen after four weeks.